Papaya power salad
Ingredients
250 gm raw papaya, cut into thin juliennes
3 to 4 green
chillies, chopped
1½ tsp oil
1 tsp sugar
Juice of one lemon
½ tsp mustard seeds
5 to 6 curry leaves
¼ turmeric
powder
A pinch of asafoetida/hing
Salt to taste
Method
Heat the oil in a pan and add the mustard seeds, hing and curry leaves.Once they splutter, add the papaya, turmeric powder, sugar, salt, green chilli and mix well. Cover and cook for five minutes. Add the lemon juice, mix well and serve.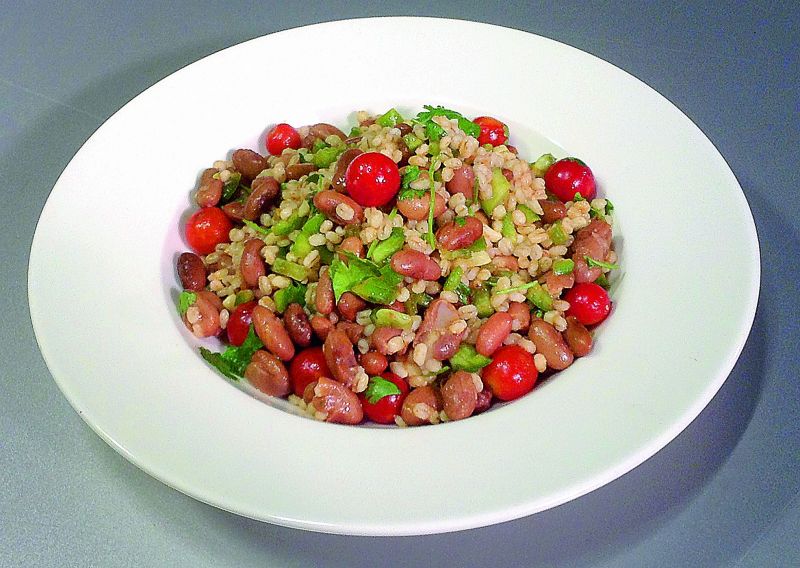 Barley and kidney bean salad
Ingredients
1 cup barley
¼ cup kidney beans
½ cup cherry tomato halved
½ cup finely chopped green
bell peppers
3 to 4 jalapeno
1/3 cup lemon juice
2 tbsp olive oil
Salt to taste
1 bunch coriander, chopped
Method
Soak and cook barley and kidney beans, separately. Drain the water and rinse both under cold water.Toss all ingredients together in a salad bowl and mix well. Lastly add barley and kidney beans. Garnish with coriander and serve.

Summery salad
Summery salad
Ingredients
2 mangoes, diced
¼ bell pepper
(any colour), diced
1 small cucumber, sliced
A few leaves of lettuce, hand torn
1 pomegranate, deseeded
1 tbsp fennel leaves,
finely chopped
1 sprig mint
1 tbsp lemon juice
Salt and pepper to season
Method
In a salad bowl, muddle the fennel and mint leaves, mix with the lemon juice. Mix all ingredients together.Season with salt and pepper. Serve cold.
Mediterranean pasta salad
Ingredients for the salad
250 gm wheat pasta
1 cucumber, diced
1 cup cherry tomatoes, halved
6 to 8 olives
1 tbsp crumbled feta cheese
½ red onion, peeled and thinly sliced
for the dressing
¼ cup extra virgin olive oil
3 tbsp red wine vinegar
1 tbsp freshly-squeezed lemon juice
2 tsp dried/fresh oregano, minced
1 tsp honey
2 small garlic cloves, minced
¼ tsp black pepper, freshly-cracked
Salt to taste
A pinch of crushed red pepper flakes
Method
Whisk all the ingredients for the dressing together until combined. Set aside.
Cook the pasta in a large pot of water and drain. In a large mixing bowl add the pasta,  cucumber, tomatoes, olives, feta cheese, and red onion. Drizzle the dressing evenly on top.  Toss until all the ingredients are evenly coated with the dressing.Serve immediately, garnished with extra feta and black pepper if desired.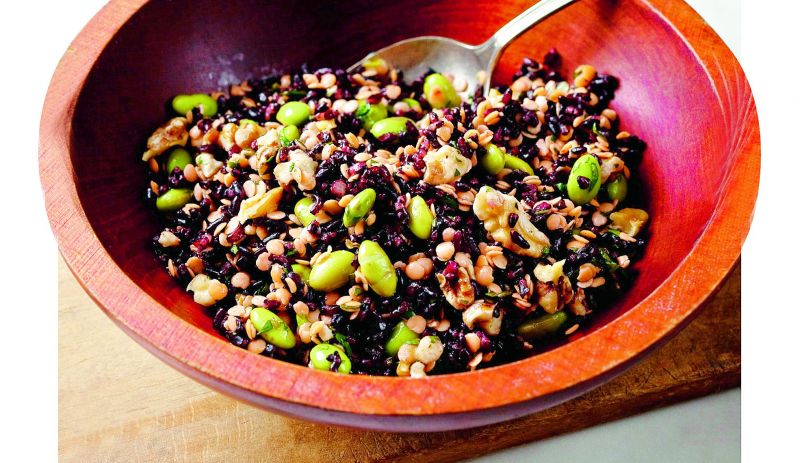 Crunchy black rice salad
Crunchy black rice salad
Ingredients for the salad
½ cup of black rice
½ onion, peeled and finely chopped
10 mushrooms, sliced (optional)
Handful of coriander leaves, chopped
Handful of fresh basil leaves, gently sliced (as they bruise)
1 ear of corn, shucked
for the dressing
1 tbsp of soy sauce
Dash of sesame oil
½ tbsp of fresh lime juice
¼ tsp of minced ginger
1 tsp of sugar
Oil for cooking
1 large clove garlic, peeled and minced
for the garnish
1 red chilli, cut in half lengthwise. Remove the seeds and finely slice
Handful roasted peanuts
Method
Rinse the rice under cold water. Put it in a pot of water, bring it to a boil and simmer until the rice is tender.Heat the oil in a small pan and cook the onion until it caramelises. Add the mushrooms and cook till they are softened and coloured. Pull the mushroom and onions out of the pan with some tongs and place them on a draining paper. Set aside.To prepare the dressing, combine all the dressing ingredients in a bowl and whisk.Add the cooked black rice and all the salad ingredient to the dressing and mix everything together.Give the rice a good stir. Sprinkle with the finely sliced chilli.Finally top it up with nuts, just as you are about to serve, so that they remain super crunchy. Serve warm or cold.