There's an old Bedouin saying, that goes something like this, "Place your hand over your heart, all our hearts beat the same". Suleiman, the charming Bedouin who told me this, is a guide in Jordan's remote Dana Nature Reserve. As I marvelled at the profundity and simplicity of this lovely man who lives a nomadic life in the isolated mountains, I realised it is this guileless sentiment that expresses Jordan's true essence – a deep-rooted sense of hospitality and inclusivity that is all-pervasive in its people. It was this warmth that cocooned us, right from the minute we stepped off the plane, throughout our recent eleven day trip through Jordan.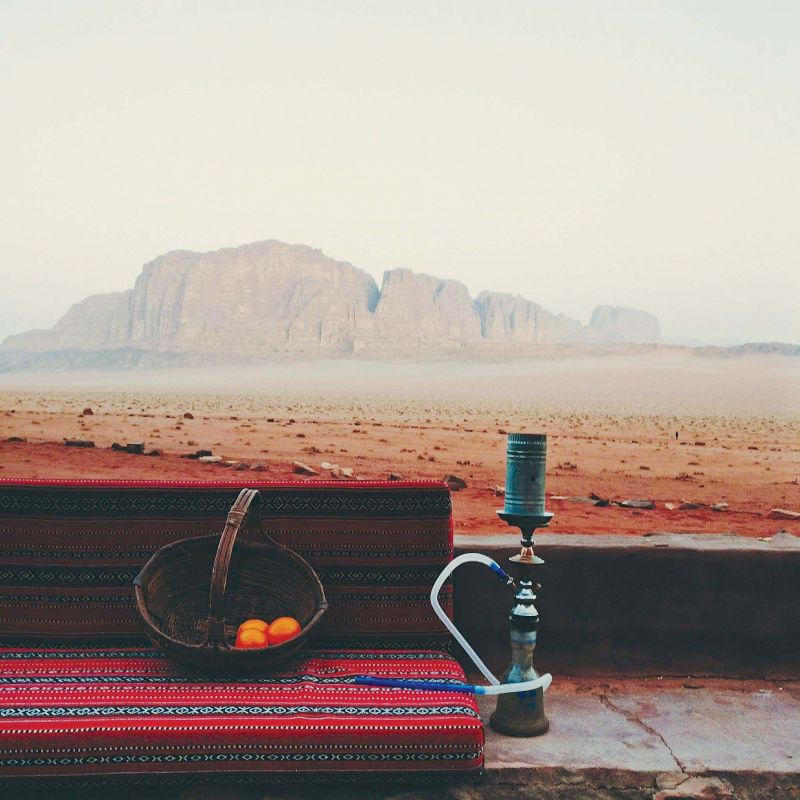 Morning desert at Wadi Rum
Though grand in name, the Hashemite Kingdom of Jordan is diminutive in size. Its total land area amounts to 92,000 km2, which is barely half the size of our home state of Karnataka. It may be tiny in dimensions, but Jordan more than makes up for it with the hefty punch it packs in natural and cultural treasures.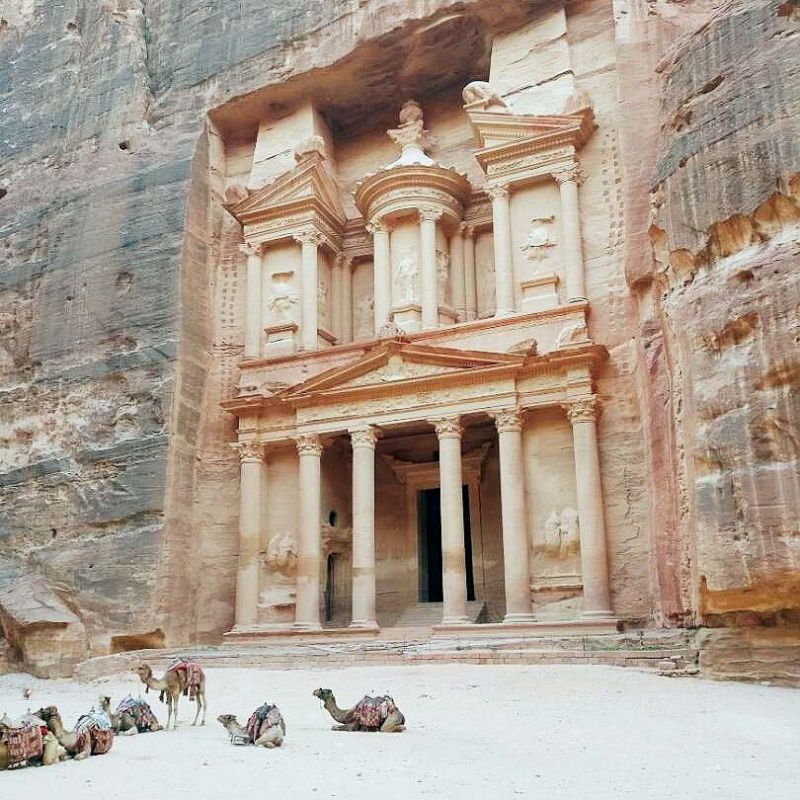 Treasury in Petra
My husband and I have done a fair bit of travelling in the last five years, but in all honesty, for us, this was the first of our voyages which held the 'trip-of-a-lifetime' flavour. Everything in Jordan, for lack of a more expressive word is 'epic'. Be it the unending desert vistas, the millennia old ruins of Romans and Nabateans alike, the smorgasbord of culinary delights, and the fabled Bedouin hospitality.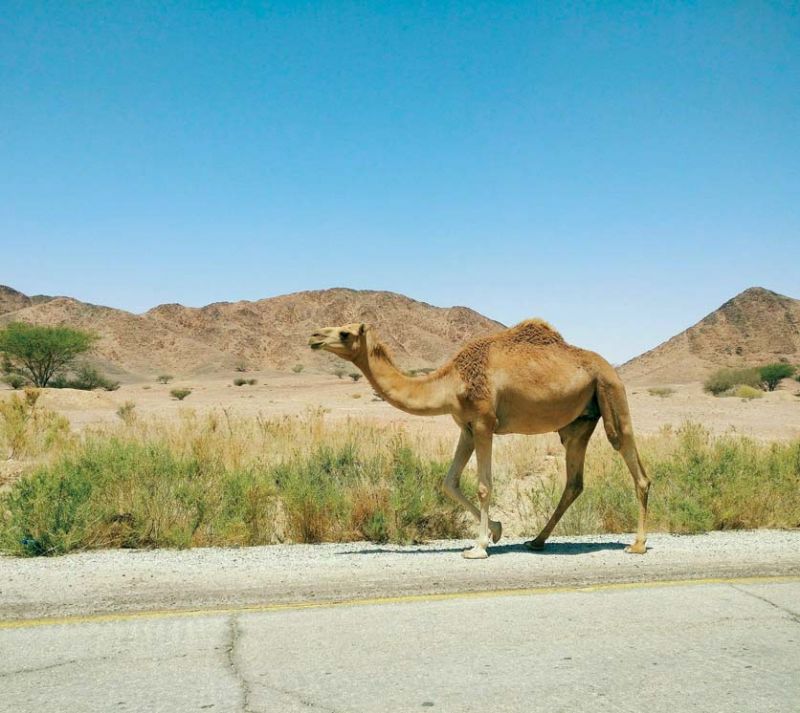 Wild camel in Dana
Our holiday in Jordan started with a touchdown in its vibrant and chaotic capital, Amman. The very next day we set off southwards, on a glorious week long road trip through the country. We spent two days each in the isolated red sands of the Wadi Rum desert, the mythical lost city of Petra, and amongst the precipitous cliffs of the Dana Nature Reserve. We then headed back up to Amman, which we used as a base for day trips to atmospheric Roman ruins at Jerash and Umm Qais and the crumbling castles of the Eastern desert. We finished our trip on a 'low' note, the lowest point on planet Earth to be precise, the spectacular Dead Sea.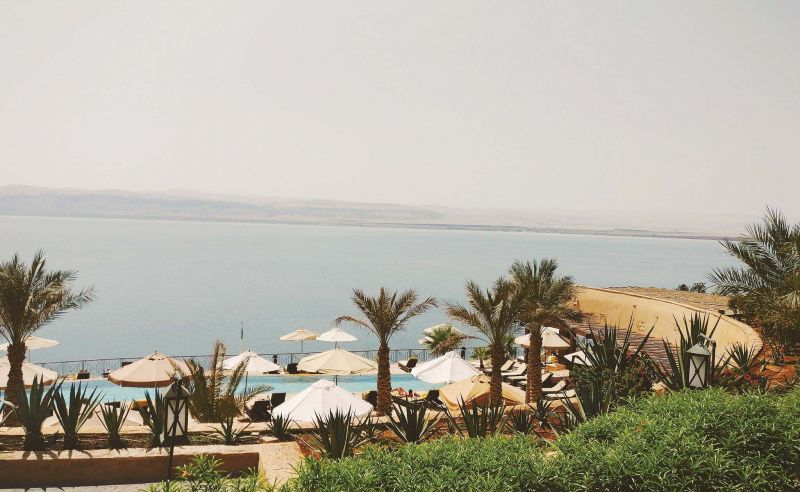 View of the Dead Sea
It goes without saying that Jordan's landscapes and archeological wonders are magnificent. However bereft of the hordes of tourists that are ubiquitous at such wonders of the world, they become intimidatingly impressive. One evening, at sunset I stood before 'Al-Khazneh' or 'The Treasury', which is the most iconic temple in the ancient Nabatean city of Petra. Save the occasional protests of the camels, and two security guards, we were all alone, staring up in awe and reverence at the gargantuan façade of sunkissed sandstone. It was at that moment, I felt the bittersweet joy and sorrow that comes with travel to the Middle East, the uneasy delight of enjoying such a place in complete peace, and the unsettling distress in this unusual solitude.
For us, the underlying sentiment throughout our trip, was thankfulness for having decided to come. Any slight initial apprehensiveness dissipated almost immediately. One hour into the trip when the friendly falafel vendor at Amman's legendary Hashem restaurant asked me whether I knew 'Hema MaleeNee', I knew right then and there that my preconceived notions of the Middle East were going to be blown away. What I hadn't counted on was that Jordan would work its way deep into the crevices of my heart and soul. I had not thought that spirituality would be felt in the Martian landscape of the Wadi Rum, that astronomy would be learnt through the velvety night sky of Dana, that tea tastes better when it is brewed on a wood fire by your Bedouin friend in the desert, that such buoyancy would be felt in the calm waters of the Dead Sea, and most importantly that I would learn that if you place your hand over your heart, you'll find that all our hearts beat the same.
– The writer is a lover of all things food, art and travel and works as a legal policy researcher at Bengaluru-based civil society, Daksh.
Getting there: Fly to Jordan's capital Amman through a number of middle-eastern carriers such as Air Arabia, Qatar and Kuwait Air. With one stopover, flight times range between eight to ten hours and tickets cost between Rs 30,000 to Rs 50,000 per person.
Visas: Indian nationals have visa on arrival. Carry $1,000 per person and two passport size photos each. Purchase the Jordan Pass (available on https://www.jordanpass.jo). If bought online, in advance, all visa fees are waived, the visa process at the airport speeds up, and entrances to most attractions (including Petra) are covered.
Currency: Jordanian Dinar (JOD).  JOD 1 = approximately Rs 91.
Best time to visit: September to November and March to early May. Spring is especially pleasant and beautiful. Summers are very hot and winters are bitingly cold.
Language: Arabic and a moderate amount of English.
Getting around: Within cities cabs are easily available. Public transport is available, but it is not the most convenient between cities and to remote locations such as desert camps. Consider a self-drive holiday. There are a number of rental car companies that rent a variety of vehicles at reasonable costs. Jordan has fantastic roads and an Indian driver's license is valid.
Accommodation: Jordan is not a country for backpackers, and the range of accommodation is limited. Given the current political situation in the Middle East, tourism has declined, and it is evident that most hotels have seen better days. Our recommendations are the superb Feynan Ecolodge which has been named one of the 25 best eco-lodges in the world by National Geographic, the Movenpick hotels in Petra and the Dead Sea, and the quirky and wonderfully located Art Hotel in Amman.
Buy: Salts and mud products from the Dead Sea, carpets, handmade mosaics from Madaba, water from the River Jordan (the baptism site of Jesus), dry fruits, and spices (especially Z'atar).
Budget: Jordan is a pricey destination to travel with a high exchange rate and food and activities on the expensive side, however given the kind of experiences you can have, it is great value for your money.