Book: The Saffron Tales Recipes from the Persian Kitchen
Creator: Yasmin Khan
"Noosh-e-jan" (Let your spirit be supported by what you are eating)
Wishing perusers therefore, London-based author and cook Yasmin Khan plunges straight off into the veritable storeroom of Persian food to present its modest and venerated fixings — where bread and dried limes discover put close by golpar (angelica seeds), kashk (a sharp flavoring produced using aged whey), date and pomegranate molasses and (obviously) saffron — and the part each papers in the food.
The presentation doesn't stop here. Khan familiarizes the uninitiated with strings of history, strings of deep sense of being and religion, travelogs from her 3,000-km gallivants through the nation's scene, codes of ceremonies and conventions and collaborations with the neighborhood shekamoo (Farsi for the individuals who cherish nourishment and eat a lot of it). These are sufficiently peppered with tales from adolescence summers spent pulling curiously large watermelons for picnics at her grandparents' ranch in Iran's northern Gilan region. The Saffron Tales is a practically anthropological account of a culture's kin and their nourishment.
Six areas compartment the formulas into breakfast, mezze and sides, plates of mixed greens, soups, mains and pastries. Khan begins each with a brief article on the part of that specific dish and its constituents. For example, for soups, she composes: "Such is the centrality of aash in Iranian cooking that the Farsi word for cook is aashpaz, which signifies 'soup-producer', and the term for kitchen is aashpazi khaneh, which signifies 'soup-house'. In numerous northern parts of the nation, a supper dependably starts with a bowl of soup."
Each of the 79 formulas has a brief presentation and Khan, maybe talented with instinct, offers adequate notes and recommendations on getting the precarious perspectives right, including how to get the ideal tahdig (dried up base) while cooking Persian rice. Similarly as insightfully, she recommends substitutes for fixings that perusers might be not able get their hands on — be it for Middle Eastern-cured cucumbers (utilize low-sugar gherkins or rather) or for the Persian flatbread lavaash (decide on tortillas). But then she suggests getting the right fixings — regardless of the possibility that it implies tracking down Middle Eastern stores, particularly for golpar — for the ideal mix of acrid and sweet that characterizes Iranian passage.
Went with mouth-watering photos by Shahrzad Darafsheh and Matt Russell, Khan's formulas have such reminiscent names, for example, Baalaaloot (saffron and cardamom vericelli with fricasseed egg), Zetoon parvandeh (olives marinated with walnuts and pomegranates), Aash-e-pole (hot yogurt and chickpea soup) and Ghormeh sabzi (sheep and blended herb stew) that there is little reason for not heading into the kitchen motivated.
The Saffron Tales is a fortune trove that brings the joys from Iran's aashkhaane into our own. It is a pity that for a human progress that is among the most seasoned on earth, nourishment from Iran or Persia — and Khan utilizes the words conversely subsequent to clarifying at the very start that the last was the classification given to Iran by the antiquated Greeks — isn't half as well known the world over as it should be. The misfortune is altogether our own.
Formula for Hot yogurt and chickpea soup (Aash-e pole)
Recipe for Hot yoghurt and chickpea soup (Aash-e mast)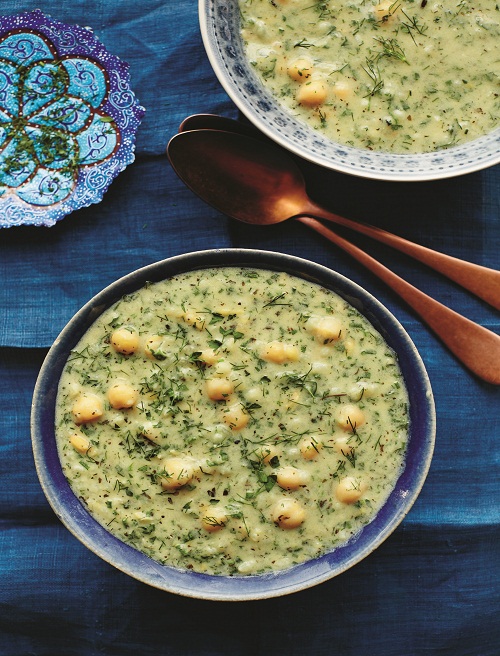 Photo: Matt Russell
Ingredients:
30g butter
2tbsp sunflower oil
2medium onions, finely chopped
3garlic cloves,crushed
400g tin of chickpeas,drained and rinsed
1.25litres good-quality chicken or vegetable stock
75g pudding rice (or white rice)
500g Greek yoghurt
15g bunch chives,finely chopped
15g bunch dill,finely chopped,plus extra for garnishing
20g bunch parsley,finely chopped
1tbsp cornflour,mixed into a paste with 2tbsp col water
1tsp sea salt
½ tsp black pepper
Method: Melt the butter with the sunflower oil in large heavy-based pan. Add the onions and fry over a low heat for around 15-20 minutes,until soft and golden. Don't rush this bit, as the caramelized onions create the base of the soup's flavour.
Add the garlic and fry for a few minutes before adding the chickpeas, stock and rice. Cook for 10minutes more.
Spoon the yoghurt into a large bowl,add a couple of ladles of hot soup and stir to warm through. Take the pan off the heat and slowly add the yoghurt, one ladle at a time, so that it doesn't split. Add fresh and dried herbs,cornflour paste,salt and pepper.
Place the soup back on the hob and simmer over a low heat for 15 minutes,stirring occasionally. Taste for seasoning an serve with a little extra dill sprinkled on top.
Serves 4
Recipe for Apricot and prune chicken stew (Aloo mosamaa)
Photo: Matt Russell
Ingredients:
Sunflower oil,
3 medium onions,finely chopped
¾ tsp cumin seed,
¾ tsp coriander seeds
800g skinless chicken thighs, off the bone
1 ½ tsp ground cinnamon
1 ½ tsp turmeric
1tsp sea salt
½ tsp black pepper
500ml good-quality chicken stock
16dried apricots
16prunes
¼ tsp saffron strands
A pinch of sugar
2 tbsp freshly boiled water
2tbsp lemon juice
Method: Heat 3 tablespoons of oil in a large saucepan with a lid and gently fry the onions over a low heat,stirring occasionally,until golden brown and caramelized (around 25 minutes).
Meanwhile, toast the cumin and coriander seeds in a dry frying pan for a minute or two and then grind them into a fine powder with a pestle and mortar or spice grinder.
Once the onions are ready,add the chicken thighs to the saucepan,along with the ground cumin and coriander,the cinnamon,turmeric,salt and pepper. Cook with the lid off over a high heat for a few minutes until the chicken is sealed on all the sides and then add the stock. Cover and cook over a low to medium heat for 40 minutes.
Meanwhile, heat a tablespoon of oil in a frying pan and lightly fry the apricots and prunes for 2-3 minutes until they start to plump up.
Grind the saffron with a pinch of sugar in the pestle and mortar and then transfer to a cup and leave to steep in the boiled water for 2 minutes.
When the chicken is ready, add the fried fruit, along with the lemon juice and the saffron liquid. Cook for a final 5-10 minutes with the lid off,until the sauce has thickened to your liking. Adjust the seasoning with a touch more salt, pepper or lemon juice.
Serves 4